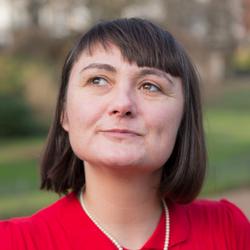 Meet Kate
Countries of expertise: Indochina, Indonesia, Borneo, Malaysia & Philippines.
Other Asian destinations visited: China, Japan, Tibet, Nepal.
Kate first travelled to South East Asia 15 years ago as part of her post-university round the world trip. What was originally supposed to be a three week stopover on her way home from Australia turned into a somewhat longer six month adventure, due to her falling completely in love with this diverse and beautiful part of the world - and being unable to drag herself away!
She travelled extensively in Vietnam, Cambodia, Laos, Malaysia, Thailand and Indonesia, and has been revisiting the area ever since.
"I will also always remember arriving in Luang Prabang for the first time; sitting outside a local coffee shop soaking up the tranquil atmosphere and stunning architecture all around me, whilst watching a long procession of monks and novices stroll past me in their coloured robes. Moments like this keep me heading back for more."
A passion for travel runs in Kate's family: "My gran inspired me when I was younger with exotic tales of her trips to the Far East… she even wrote a book about her travels - available in all good bookshops!"
Kate has also spent time in China, the Philippines, Japan, Africa, and South & Central America, as well as a memorable six months touring round India and Nepal. She is very much at home in the mountains and has climbed Mount Kenya, trekked through the Himalayas and the Ethiopian Simian Mountains. Next on her wish list is to climb Mount Kinabalu in Borneo.
60 second interview
Most likely to say
"Grab every opportunity you can to interact with the local people. It's a great way to really immerse yourself in and learn about a country's culture. I was lucky enough to be invited to stay with a family while travelling in Indonesia, and it remains one of my most memorable travel experiences."
Who is the person you'd most like to sit next to on a flight?
"Richard Branson – in the hope that he'd give me a (return) ticket on his shuttle into space."
What is your favourite aspect of travel?
"Visiting a country for the first time. Nothing beats the excitement of arriving somewhere new and being confronted with a multitude of new sights, smells and sounds!"
Any useful advice?
"I always roll my clothes when packing, it helps avoid creases and you manage to pack more in your suitcase."