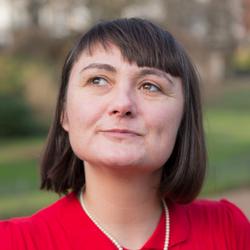 Meet Kate
Kate first travelled to South East Asia as part of her post-university round-the-world trip. What was originally supposed to be a three-week stopover on her way home from Australia turned into a somewhat longer adventure when she fell completely in love with this diverse and beautiful part of the world - she was simply unable to drag herself away. She has been visiting the region as often as possible ever since, travelling extensively in Vietnam, Cambodia, Laos, Malaysia, Thailand and Indonesia, as well as spending time in China, the Philippines, Japan, and devoting a particularly memorable six months to touring India and Nepal.
She sets her travel sights high, having climbed Mount Kenya and trekked through the Himalayas and the Ethiopian Simien Mountains. Next on her wish list is climbing Mount Kinabalu in Borneo. When she's not scaling mountains, she's smashing her personal best times in marathon running. We try to keep up!
In her words
"A passion for travel runs in my family. My gran inspired me when I was younger with exotic tales of trips to the Far East. She even wrote a book about her travels which is still in print."
I will always remember arriving in Luang Prabang for the first time; sitting outside a local coffee shop soaking up the tranquil atmosphere and stunning architecture all around me whilst watching a long procession of monks and novices stroll past in their coloured robes. It's moments like this that keep me heading back for more.
"Nothing beats the excitement of arriving somewhere new and being confronted with a multitude of intoxicating sights, scents and sounds."
Take every opportunity you can to spend time with local people when travelling - it's such a great way to learn about a country's culture and fully immerse yourself in it. I was lucky enough to be invited to stay with a family whilst travelling in Indonesia, and it remains one of my most memorable travel experiences.
Countries visited in Asia
Indochina, Indonesia, Borneo, Malaysia, Philippines
and
China, Japan, Tibet, Nepal, India
Questions
Favourite Asia-related book?
I love 'The God Of Small Things' by Arundhati Roy. It's beautifully written and evokes such a strong picture of life in 1960s Kerala
Favourite experience in Asia?
Witnessing the early-morning ritual bathing on the banks of the Ganges in Varanasi.
Favourite Asian food?
It has to be Pho Cuon (steamed rice paper with stir fried beef, garlic and coriander) which is only found on Ho Truc Bach Island in Hanoi - totally delicious.