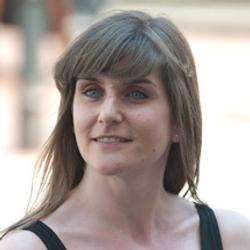 Meet Natasha
Countries of expertise: Japan, Thailand, Laos, Vietnam, Cambodia, Indonesia, Malaysia and Borneo.
Other Asian destinations visited: Singapore and Hong Kong.
Natasha first travelled to Asia in 2006, as part of a three month trip after completing her university degree, and she was hooked, from the moment she set foot in Bangkok.
She quickly discovered that the entire region is welcoming, relaxing, and a joy to navigate; that its people are as beautiful as they are hospitable. 'Your senses are pushed to their limits with the smells from sizzling street food, the sight of mosaic stupas glittering in the sunlight, and the sound of motos darting through the crowded streets', says Natasha.
Learning to scuba dive in Koh Tao was a real highlight, and has remained a big factor in her subsequent return trips to Asia. Having gained her PADI qualifications six years ago, Natasha has been fortunate enough to dive in some of Asia's premier underwater destinations, including Borneo's Sipadan Island, with its spectacular sea turtle population, the coral reefs of Indonesia's Gili Islands, and a handful of Vietnam's lesser known diving gems.
She is a reliable source for latest greatest places to dive in Asia, and is always keen to share insider tips with anyone keen to follow in her wake.
Natasha has returned to Asia five times since her post-uni trip, taking in Thailand, Laos, Vietnam, Cambodia, Malaysia, Singapore, Hong Kong, Borneo, Bali and the Gili Islands. She loves to explore new destinations and likewise to re-visit old favourites, especially old friends.
When she's not travelling herself, one of her favourite 'hobbies' is to advise friends and family about their next holiday. She even acts as personal travel advisor to her brother, who lives in Hong Kong, and who takes full advantage of his sister's expertise when planning short breaks and long weekends throughout Asia.
Not surprisingly, everyone she knows has now become an Asia convert.
60 second interview
Most likely to say
"Don't be put off a destination by someone else's opinion. Recommendations and advice from friends is great, but everyone is different. Just because they didn't enjoy a particular town it doesn't mean you will feel the same! Do your research based on unbiased information such as guidebooks as this gives you the best chance of forming your own opinion."
Who is the person you'd most like to sit next to on a flight?
"Bruce Parry – he has lived with some of the world's most interesting tribes and I really admire his attitude! I bet he has some amazing stories that didn't make it in to the BBC shows."
What is your favourite aspect of travel?
"Being immersed in a totally different world and experiencing something completely different to my normal everyday routine. As soon as I am on the plane I feel like I'm on a journey to another way of life. I love witnessing the normalcy of other countries, getting a real sense of how the local people live and work."
What essential item is first in your bag?
"It used to be a spare roll of film, but that's not so important these days!"