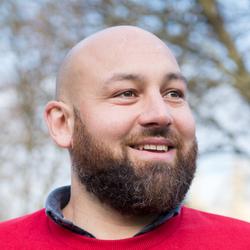 Meet Stephen
Countries of expertise: Vietnam, Laos, Cambodia, Indonesia, Thailand & Japan.
Other Asian destinations visited: Korea
As a child, Stephen moved out to California and exploring the US sparked his interest in travel. A trip to Zimbabwe to visit family firmly cemented in his mind that travel was going to play a central role in his future.
After working in the pub trade for a few years he felt that it was time to head off and explore pastures new. As with so many others, Australian working visa in hand, he planned a short stop in Thailand en route. This turned into an extensive three months meander through Thailand, Laos, Vietnam, Cambodia and Malaysia before finally making it all the way to Australia.
After a year in Australia which included securing his qualification to work as a dive instructor, he headed back to the UK, this time making another Asian detour and stopping in Indonesia. Stephen was keen to discover what Bali and the surrounding islands had to offer both above and below the surface of the sea and was impressed by both.
Once back in the UK plans for the next trip were never far from his mind. This time the plan was to travel and pay his way working as a dive instructor which took him off to some exciting destinations including New Zealand, Tahiti, The Cook Islands and Fiji before heading to Israel to live for a while. The continuing urge to explore and find new places then took him out to Costa Rica and finally the British Virgin Islands where he settled for three years. Despite all of this, his original stops in South East Asia offered such an eye opening array of things to see and do that the region has remained his firm favourite. So much so that he has just booked his ticket for a trip back to Vietnam, Cambodia and Laos.
60 second interview
Most likely to say
"Having taken the chance to explore these countries, take a moment to master a few simple words or phrases to get you through the day, it can make all the difference at times just being able to say "Thank you very much" for things."
Who is the person you'd most like to sit next to on a flight?
"As a very keen diver it would be great to sit next to Jacques Cousteau, and hear about the things he saw over the years, and how it has changed as time went by. Listening to stories of finding lost and forgotten wrecks, and seeing wildlife in the numbers in years gone by, as opposed to these days. Coming from a time when diving was not as accessible as it is today and before the levels pollution and climate change affected the underwater world as much as they have. Hearing what things were like, and how he went about creating awareness and conservation for marine life would all make for a very exciting and interesting flight."
What is your favourite aspect of travel?
"How travel is able to give you a view of different cultures and life, opening your eyes to how other people live, and drawing you into find out more about lifestyles and culture."
Any useful advice?
"Whilst ATM's are widely available and a great solution to handling your travel money throughout much of Asia, it can also help to take some smaller denominations of currency(£,$,€). It is much easier to gradually change into the local currency and helps ensure you don't bring excess foreign currency home."