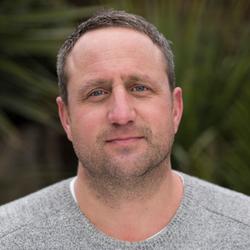 Meet Nick
Nick's love affair with South-East Asia began whilst travelling at the tender age of 17 and he has since returned many (many) times. His lifelong passion for travel has taken him from the deserts of Namibia to the frozen tundra of the Canadian Arctic, but his heart remains firmly in Asia. He's worked and lived in Thailand, travelled extensively throughout the entire Asia region, even skipping the flights on occasion and travelling by train from Moscow, via Siberia, through Mongolia, China and Tibet.
Nick founded Selective Asia in 2005 out of a desire to build a company offering that same backpacker energy, and the chance to make genuine connections, to a broader diversity of travellers. Designing and delivering bespoke, independent-style travel to time-shy, inquisitive travellers has been his, and Selective Asia's, journey ever since.
In his words
After my promising rugby career was cut short by injury, I turned my attention to travel in a big way. Thankfully, my Thai-dye wearing days were pre digital cameras and some of my most cherished photos now only reside in a box, rather than online for everyone to see (purple dungarees, really!?!)
Never having been someone to do things by halves, my parents feared I'd only ever work for as long as it took to fund my next trip! However, my passion for travel quickly became a career. I worked in a variety of roles, and founded several travel businesses in my early 20's, before founding Selective Asia in 2005, and I've remained involved across the business ever since.
''Having visited Asia frequently since my late teens, I've witnessed many iterations of its ever-changing social and economical landscapes. Since I first visited back in 1992, there's been economic boom after economic boom. Though I initially missed some of the old tranquillity and simplicity, it's a joy to see how dynamic the region has become. Always expect the unexpected! There's still plenty of tranquillity to be found if you know where to look.''
Sustainability and responsible travel has, of course, come into sharper focus in recent years and this area particularly interests me. As a business, we love to innovate and collaborate, helping build a better industry from within. In 2022, I was invited to join the non-executive board of Travel by B Corp, a collective of like-minded, B Corp-certified travel businesses with the aim of helping UK consumers to travel better.
"Delivering sustainable innovation with genuine integrity in today's distorted landscape is becoming increasingly challenging. Therefore, making small incremental changes, connecting with similarly-minded people and change makers, helps keep me equally honest and inspired."
When not in Asia, I love to feed my appetite for adventure closer to home with weekends spent bike-packing in Sussex and Kent, climbing trips in Scotland, and long walks on the South Downs near my home in Brighton.
A selection of Nick's blogs & articles
June 2023: The future of tourism - what is the true cost of viable travel?
June 2023: Celebrating Bhutan
December 2022: Nick's Sri Lanka post-trip report

November 2022: A view from afar: Honesty around sustainability

April 2022: The realities of unexploded ordnance, the work of MAG and how travel can help
Q&A
Asian destinations visited:
Bhutan, Vietnam, Laos, Cambodia, Myanmar, Thailand, Sri Lanka, Borneo, Hong Kong, India, Indonesia, Japan, Malaysia, Mongolia, Nepal, Philippines, Siberia, Singapore, China & Tibet
Top Asia related reads:
'Shantaram' by Gregory David Roberts is an inspiring tale that highlights the best of humankind.
'The Frozen River: Seeking Silence in the Himalaya' by James Crowden. This engaging and immersive account of his time spent with the people in Zandakar during the winter of 1974 evokes an era of travel which, in a sense, feels lost to us as the world becomes ever more connected and monocultural.
The perfect day in Asia:
There are many of them to be honest; it might be trekking in the Himalayan mountains, visiting a bucket-list temple, taking a gentle wander through rural villages, or perhaps exploring a new city's food scene, jumping from one tempting food stall to another.
All these possibilities have one thing in common: they start early! Witnessing Asia come to life with the sunrise is always a high point. It's more connected, often very peaceful, and can feel like you're sharing a moment that many others aren't. Hearing Buddhist palis being chanted from a nearby monastery as dawn breaks is often the icing on the cake for me