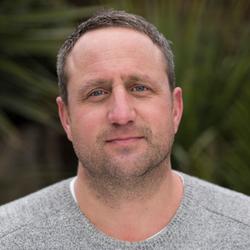 Meet Nick
Countries travelled: Vietnam, Laos, Cambodia, Myanmar, Thailand, Sri Lanka, Borneo, Hong Kong, India, Indonesia, Japan, Malaysia, Mongolia, Nepal, Philippines, Siberia, Singapore, China & Tibet
Nick's love affair with South-East Asia began whilst travelling at the tender age of 17 - he has since returned on over 30 occasions.
Now suited and booted (never!) in Selective Asia's Brighton office, he's almost unrecognisable from the Thai-dye days when he launched the first half moon parties on Koh Phan Ngan in Thailand - far superior to the infamous full moon parties, he insists!
Nick's passion for travel has taken him from the deserts of Namibia to the frozen tundra of the Canadian Arctic, but his heart has always remained firmly in Asia. Along with working and living in Thailand, he's travelled in Vietnam, Cambodia, Laos, Myanmar, Borneo, Indonesia, Singapore, Malaysia, the Philippines, throughout the Indian Subcontinent and by train Beijing to Lhasa and from Moscow, via Siberia, through Mongolia and China to Hong Kong.
"It's the way the people there welcome you and take you in as one of their own" says Nick. "You can be travelling through a remote village and be invited in to a complete stranger's wedding, and end up staying a week. It's the fantastic food, the visual assault on the senses, the sunrises, for me it's perfection."
A promising club and international rugby career was cut short at just 20 due to injury and so, having gained a degree in business and geography from Brunel University, Nick embarked on a career in travel. Having worked in a variety of roles, gradually climbing up 'the ladder', Nick founded Selective Asia in 2005 and has remained involved in every aspect of the business ever since.
60 second interview
Most likely to say
'Less is more - don't try and cram too much in. The best travel experiences are always achieved when you give yourself time to immerse yourself in the culture and pace of a country.'
Who is the person you'd most like to sit next to on a flight?
'It's a close call between a 1970s Keith Richards, and my grandfather, who fought in Burma and whom I never met.'
What is your favourite aspect of travel?
'The mornings. I love nothing more that get out onto the streets and amongst the markets to soak up the incredible atmosphere and flavours and watch a town slowly come to life.'
What essential item is first in your bag?
"Hotel wake up calls are notorious for letting you down when you most need them. Never rely on them - set your own alarm!"