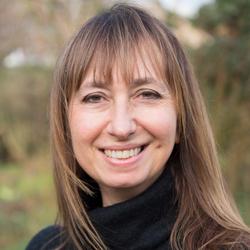 Meet Lou
Lou landed her first job in travel in the '80s when she walked into the Job Centre, saw an advert for working in European rail travel and thought, 'I'd love to do that!'. Since then, she has held a diversity of different roles within the industry, going from specialising in student backpacking, to putting together package holidays, to organising high-end bespoke trips. We were lucky enough to get her onboard as our Sales and Administrative Support in 2015 and she's been keeping everything ship-shape for us ever since.
In her words
I've got many wonderful travel memories, from childhood summers at my grandmother's house in Frascati, just outside Rome, to watching sunsets from a Sri Lankan safari tent.
"Sri Lanka's National Parks were real highlights. Spending a few days in the depths of Udawalawe, surrounded by wildlife, especially the elephants and monkeys (with the latter frequently trying to steal our breakfast!), was just incredible. After tracking leopards for hours in Yala, coming back to a gin and tonic around the campfire as the sun went down was totally perfect."
I first travelled to Asia in the '90s, backpacking through Thailand and southern India. It all felt very 'off the beaten track' and I'll never forget the trains, especially getting on in Bangkok and jumping from carriage to carriage as we made our way down to Phuket, before hopping on a boat to Koh Samui.
"Travelling by rail from Bangkok to the coast was a real adventure and ridiculously exciting - I remember seeing that ocean and white sand for the first time and just thinking 'wow, I'm in another world'."
In India we took the train down to Kerala, Mumbai and Madras and, aside from loving watching the gorgeous scenery roll past, everything just felt so efficient. Meals we'd pre-ordered at the start of our journey were brought on board at each station, and the couriers knew exactly where to find us - it was exceptional service. I recommend travelling by train as much as you can; you see everything from a completely different angle.
Countries visited in Asia
Thailand, India, Singapore, Sri Lanka, Malaysia, Vietnam
Q&A
Favourite Asia-related book?
'Shantaram' by David Gregory. It's so evocative of the experiences that he went through during his time in India; a hugely powerful and affecting book. It's one where you finish it and feel it's changed your life.
Favourite Asia-related film?
'Only God Forgives', with Ryan Gosling and Kristin Scott Thomas. It's based in Bangkok and has that element of humour and allure alongside the shocking and gritty plot. It's both wonderful and bizarre.
Favourite Asian food?
I absolutely love food, and the railway thalis in India are amongst my favourite meals, but if I had to choose one dish it would be the sticky rice and coconut ice cream (bi-co-moi) from Torry's in Phuket - I could eat that forever.