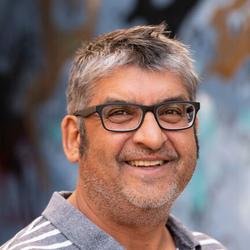 Meet Lionel
After graduating with honours from Sheffield Polytechnic (remember those?) in 1991, Lionel set about clearing his student debt and saving for a long round-the-world trip. Finally, three years later, he stopped off in South-East Asia en-route to Australia and the rest is history.
As well as work-related visits to countries all across South-East Asia, Lionel's passion for travel has taken him as far afield as the Mayan ruins in Guatemala, tropical cayes in Belize, a number of States of America, the Skeleton Coast and deserts of Namibia, The Garden Route, Johannesburg and Kruger National Park in South Africa, the South Pacific Islands of Fiji and Rarotonga, New Zealand and, of course, the Indian Subcontinent.
Lionel joined Selective Asia in 2007 and has worked with us to create outstanding tailor-made travel ever since.
In his words
The first time I went to Asia in '94, it was only meant to be for a six-week stopover in Thailand en-route to a working holiday in Australia, but I found it very difficult to leave. I wanted to see more of Asia as soon as possible - the region had me hooked, instantly.
"You really know when you have arrived in The Land of Smiles. Nothing seems to be too much of a problem and the attitude is one of 'why say no when you can say yes?'"
After travelling through Thailand, Malaysia and Sumatra, plus a three month stint of construction work in Hong Kong on the new Chek Lap Kok Airport, I arrived down under - only 5 months late! I've returned to Asia many times since then, for all-too-short holidays and longer wanders, and go back as often as I can.
"Invariably when I travel to Asia, my favourite aspect is just being there, absorbing it all; the food, people, sights, smells, and way of life - everything."
If I could turn back the clock 30 years, I wouldn't change much, to be honest - other than maybe snapping up that terraced house in Notting Hill when I had the chance!
Countries visited:
Borneo, Myanmar, Cambodia, Laos, Thailand, Malaysia, India and Vietnam.
and
Hong Kong, Indonesia, Japan, Macau, Malaysia and Singapore.
Questions
Favourite experiences in Asia?
River journeys in Laos and Myanmar, watching beautiful scenery along the banks, visiting remote villages and settling into the tranquil pace of life.
Favourite Asian food?
Thai green seafood curry, eaten on the beach on a Thai island… I'm also a big fan of Indian street-food.
Favourite conservation/ social enterprise project in Asia?
The phenomenal Lone Buffalo Foundation and MAG (Mine Advisory Group), both doing extraordinary work in Laos.