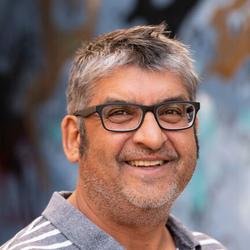 Meet Lionel
Countries of expertise: Borneo, Myanmar, Cambodia, Laos, Thailand, Malaysia, India and Vietnam.
Other Asian destinations visited: Hong Kong, Indonesia, Japan, Macau, Malaysia and Singapore.
After graduating with honours from Sheffield Polytechnic (remember those?) in 1991, Lionel set about clearing debts and saving enough for a long round the world holiday.
Finally, in 1994, Lionel first visited South East Asia. Scheduled to be a six week stopover in Thailand en-route to a working holiday in Australia, Lionel found it very difficult to leave Asia due to his immediate love of the region. After travelling through Thailand, Malaysia, Sumatra and a three month stint of construction work in Hong Kong on the new Chek Lap Kok Airport he arrived, just 5 months late, in Australia!
Lionel has since returned to Asia many times for all-too-short holidays and longer wanders, as well as a number of work-related visits to Borneo, Burma, Laos, Vietnam, Cambodia, Thailand, Malaysia and Singapore. His passion for travel has taken him as far afield as the Mayan ruins in Guatemala, tropical cayes in Belize, a number of States of America, the Skeleton Coast and deserts of Namibia, The Garden Route, Johannesburg and Kruger NP in South Africa, the South Pacific Islands of Fiji, Raratonga and New Zealand, and of course the Indian Subcontinent.
Lionel joined Selective Asia in 2007 and has worked in tailor-made travel for over 15 years. He lives near Brighton with his wife Donna, and their three young children.
"You really know when you have arrived in The Land of Smiles. Nothing seems to be too much of a problem and the attitude is why say no when you can say yes."
60 second interview
If you could turn the clock back 20 years
"I wouldn't change much to be honest, I might have snapped up that terraced house in Notting Hill, but not much else would be different."
Who is the person you'd most like to sit next to on a flight?
"I'd love to spend a few hours chewing the fat with Elvis (for the purpose of this interview I mean the singer, not my son)."
What is your favourite aspect of travel?
"Invariably when I travel these days it is in Asia. Just being on that continent; the food, people, sights, smells, and way of life - everything about it!"
Any useful advice?
"Aim to get to the airport at least 3 hours prior to departure for international flights, your holiday can start as soon as you are air-side."