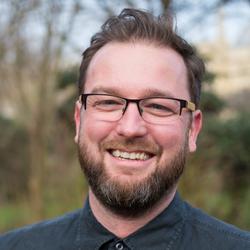 Meet Karl
After travelling through South-East Asia for the first time way back in 1999, soaking up every sight, sound and flavour, Karl returned to the UK with a cunning plan to keep travelling whilst earning a crust along the way. In May 2000, his career in the travel industry was born in earnest and since then he has been fortunate enough to travel to many far-flung places including the Indian subcontinent, Argentina, Chile, Ecuador and the Galapagos Islands. Whenever he can, Karl returns to his true first love: Asia.

Karl joined Selective Asia in 2009 having worked in tailor-made travel for over 8 years. He lives in Brighton with his wife and their two sons.
In his own words
I first set foot on South-East Asian soil back in '99 after an eye-opening 18-month stint travelling through Africa and Australia. It was an unscheduled stop, having slightly overstayed my visa (and in turn my welcome) down under! This unplanned approach (although being a little scary at the time) proved to be a stroke of genius, as my wet-behind-the-ears, 21-year-old self leaned into every new experience the region had to offer.
"For me, Asia is about the warmth of the people, the stunning and diverse scenery and, of course, the food."
Travelling through Asia can be incredible. There's variation on a daily, hourly and even minute-by-minute basis and you never know what's going to happen next. Always leave some spare time in your itinerary. You never know how you are going to feel, and some planned-in relaxation time at various points can mean you enjoy the busier sections so much more.
"If there's one small travel hack I can pass on, I'd advise investing in a good pair of noise-cancelling headphones for flights – they will change your experience forever!"
Countries visited
Malaysia, Borneo, Laos, Indonesia, Vietnam, Cambodia, Thailand & Sri Lanka
and
Japan, Hong Kong, India, Nepal and Singapore.
Q&A
Favourite Asia-related book?
'Nathaniel's Nutmeg' by Giles Milton which tells the extraordinary story of nutmeg, the spice trade and the birth of the Spice Islands in the 1600s.
Favourite Asia-related podcast?
'Empire' with William Dalrymple and Anita Anand, which looks at the complex and controversial stories, personalities and events of empires throughout history.
Favourite social enterprise project in Asia?
The Pink City Rickshaw Co. is a fantastic not-for-profit initiative in India where women from low-income families are trained to guide clients around their cities on their distinctively-pink e-rickshaws. The women are also embedded as equity holders within the company, which gives them a genuine degree of ownership. It's an inspiring project that's also loads of fun!