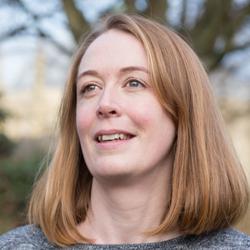 Meet Anna
Countries of expertise: Borneo, Cambodia, Thailand, Vietnam, Sri Lanka, Myanmar & Japan
Other Asian destinations visited: Malaysia, Singapore, India, China, Hong Kong, Bali and the Philippines
These days, Anna doesn't really like to confess that when she arrived to start tour leading in Vietnam fresh from surviving her first contract in the Middle East, it wasn't actually her first choice of destination.
However, from the moment she first stepped out of her hotel and got lost in the narrow streets of Hanoi's Old Quarter, she knew that she was coming round to the idea. By the evening, crouched on a small plastic stool with a cold glass of Bia Hoi, she was smitten. "I really think Asia has everything. Amazing landscapes, vibrant cities, some of the most beautiful beaches in the world, friendly people who always seem to have time to welcome visitors – whether it's the Thai people with their insistence on 'sanuk' or fun, or the Khmer people of Cambodia who in their recent history have overcome so much – and I haven't even mentioned the food yet!"

Over the years, Anna has enjoyed sampling the more unusual aspects of Asian cuisine, and during her most recent trip to Cambodia added beef with red ants and holy basil, snail salad and frog to the list of dishes she has tried, joining ducks feet, snake, fried scorpion and some of the more 'unusual' parts of a goat. However, although she has taken part in numerous courses during her travels, she remains a very bad cook.

Despite leading tours on a number of different continents, Anna was always drawn back to Asia, and apart from her year leading tours in Vietnam, Cambodia and Thailand, has travelled to India, Singapore, China, Hong Kong and through eastern Turkey and Georgia. Having hung up her tour leading boots, before joining Selective Asia she worked in various areas of the travel industry, from adventure tours to river cruising.
60 second interview
Most likely to say
'Enjoy the journey'. In Asia there are many opportunities to travel on foot, by bicycle, boat, train, or even elephant. Whilst the destinations themselves are fantastic, it's the way that you get there which is bound to provide you with some of your greatest travel stories.'
Who is the person you'd most like to sit next to on a flight?
'I think I'd probably have to say the Queen. I'd ask her where she had enjoyed visiting the most during her royal tours, what her most memorable experience was, and how she manages to stop Prince Philip offending everyone.'
What is your favourite aspect of travel?
'Definitely a good book. Whenever I can, I like to be reading a book that has some connection with the place where I'm travelling at the time. Last time I visited Vietnam and Cambodia it was River of Time, written by foreign correspondent Jon Swain during the 1970s when he was covering the war in Indochina. It really invokes the beauty of the area, as well of the tragedy of the conflicts that changed it forever. '
Useful advice?
"Consider getting your guide to teach you a few words of the local language – then be sure to use them! Please, thank you and sorry in particular are always sure to come in handy. Also, if you have any special dietary requirements ask your guide to put something in writing that you can show to your waiter when eating in restaurants."