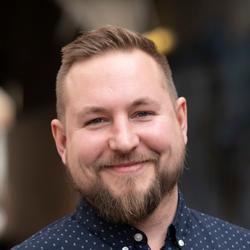 Meet Aaron
Countries of expertise: Vietnam, Cambodia, Thailand, Laos & Sri Lanka
Other Asian destinations visited: India, Singapore, Malaysia
Aaron sometimes describes himself as a bit of a history geek. His first travel experience was backpacking through central America as he had long been fascinated with the Maya and the Aztec.
As Aaron puts it 'I instantly fell in love with the feeling of throwing on a backpack and striking out to explore the remnants of these ancient civilisations, not to mention the beaches'.
Over the next few years Aaron worked in finance for long enough periods of time to pay for another trip and then grabbed that backpack again. Next on the list were Brazil, Peru, Chile and Argentina. 'The discovery of The New World, and the subsequent centuries of history had always interested me, and is arguably one of the most profound events in modern human history. Columbus, Pizarro et al have quite a lot to answer for.' After returning from South America he found it increasingly difficult to settle back in to working life. Following a timely conversation with a travel agent friend, he embarked on a career switch to the travel industry. This allowed him to share his experiences and talk about far flung destinations with the added bonus that it also offered the chance to discover new destinations.
Then came India. None of the countries he had travelled to this far had prepared him for his arrival in Delhi. The heat, the colours and the people took his breath away. 'Rajasthan's history along with the monumental forts and palaces of the region had been on my radar for a while and like most visitors, I'll always remember my first glimpse of the Taj Mahal.'
Aaron travelled in India for a short while and returned determined to explore more of Asia. In the following years he spent time in Thailand, Cambodia, Laos, Sri Lanka and Vietnam which firmly established Asia as his favourite region of the world.
'The history of Southeast Asia can sometimes be difficult to decipher, with borders constantly shifting over the centuries. What is certain though is some of the most incredible temples and ancient cities of the world can be found here. From Angkor Wat to Anuradhapura, some of the most fascinating civilisations laid the foundations of modern Asia.'
After more than a decade in the travel industry, Aaron has enjoyed so many diverse experiences. He has also had the pleasure of checking in to a broad range of roofs over his head, from rough and ready dorm rooms to ultra-luxurious private pool suites and everything in between. He has been on exclusive safaris in Africa, partied on Sunset strip and kicked back in Barbados but Asia keeps him coming back for more not least because he finds it to be the most exciting and forward-facing of continents. 'Asia really is the quintessential collaboration of old and new and if the statistics are to be believed the 21st century could well turn out to be the "Asian Century" and it would be thoroughly well deserved'.
60 second interview
Most likely to say
'We usually regret the things we didn't do, much more than the things we did. So go for it!'
Who is the person you'd most like to sit next to on a flight?
'Genghis Khan. He was arguably one of the most influential people in history and directly affected a huge proportion of the human race. The Mongol empire eventually stretched from China in the east to Ukraine in the west encompassing religions as diverse as Taoism, Islam, Manichaeism, Shamanism and Christianity (religious freedom was encouraged!). He is rightly remembered as a ruthless conqueror but he was also stunningly enlightened. He encouraged the Silk road into a cohesive whole which really allowed communication between east and west at an unprecedented rate. Interesting Bloke!'
What is your favourite aspect of travel?
'The ability to leave your day to day worries behind, however temporarily. It's a great feeling to know that for the next week/month or however long you can afford to be away that you don't have to worry about the gas bill, or your car's MOT or your annoying neighbour! The only concern is where to go today and what adventures are out there waiting to be had.'
Useful advice?
'Have patience. Occasionally when travelling things don't go entirely to plan. Take a deep breath and make as much out of whatever confronts you as you can. It becomes all part of the fun when you embrace it.'
'Looking back, those unexpected stops or diversions will become a great story or a funny one!'