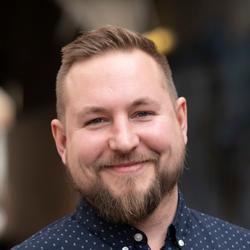 Meet Aaron
Since starting his career in the travel industry in 2006, Aaron has enjoyed many diverse experiences across the world, staying in every level of accommodation from rough-and-ready dorm rooms to ultra-luxurious private pool suites. He's been on exclusive safaris in Africa, partied on LA's Sunset Strip and kicked back in Barbados, but it's Asia that keeps him coming back for more.

After first visiting the continent when travelling in India, Aaron returned determined to explore more of Asia. In the following years he spent time in Thailand, Cambodia, Laos, Sri Lanka and Vietnam which firmly established Asia as his favourite region of the world. Following a timely conversation with a travel agent friend, he embarked upon a career in the travel industry. This allowed him to share his enthusiasm and experiences of these far-flung destinations, with the added bonus of the opportunity to keep discovering more.
In his words
'Asia really is the quintessential collaboration of old and new, and if the statistics are to be believed, the 21st century could well turn out to be the "Asian Century". It would be thoroughly well deserved'.
I'm a bit of a history geek and ever since my first backpacking trip through central America, where I encountered Mayan and Aztec culture, I've been fascinated with ancient civilisations. I instantly fell in love with the feeling of throwing on a backpack and striking out to explore these historic remnants (not to mention the nearby beaches!) Over the next few years, I worked in finance to pay for my next trip, then grabbed that backpack again ready to explore more. Eventually, I put my love for travel front and centre and made it my career.
Then came India. None of the countries I had travelled to thus far had prepared me for my arrival in Delhi. The heat, the colours and the people took my breath away. Rajasthan's history, along with the monumental forts and palaces of the region, had been on my radar for a while and, like most visitors, I'll always remember my first glimpse of the Taj Mahal.
The history of South-East Asia can sometimes be difficult to decipher, with borders constantly shifting over the centuries. What is certain, though, is that some of the most incredible temples and ancient cities of the world are found here. From Angkor Wat to Anuradhapura, mighty civilisations have laid the foundations of modern Asia.
'Occasionally when travelling, things don't go entirely to plan, but have patience. Take a deep breath and make as much out of whatever confronts you as you can. It becomes all part of the fun when you embrace it. Those unexpected stops or diversions often become a great story, or at least a funny one!'
Q&A
Favourite Asia-related book?
Embers of War by Fredrik Logevall. It's a fascinating look at the years between World War I and first casualties of the later war in Vietnam.

Favourite place/experience in Asia?
Shinta Mani Wild, right on the riverside in rural south western Cambodia. It's an outrageously fun place to stay - arriving via zipline is a pretty unusual way to start!

Favourite Asian food?
I love flavours from northern Thailand and Laos: the heat in a comforting bowl of khao poon noodles, sai oua sausage with a spicy kick of jaew bong, and fresh tum mak hoong papaya salad.