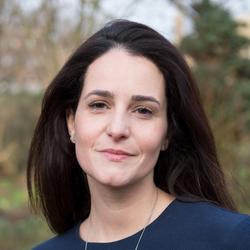 Meet Maria
Maria's passion for travel began as a young child when, at the age of three, she boarded a plane with her family to explore Madeira. In those formative years, eating sweet bananas on the top of a mountain and getting swept up in traditional folk dancing, her love for travel took root. Since then, she has lived in five different countries, taken her young family travelling around the world for a year (including some especially memorable months in Japan) and visited countries across South-East Asia and beyond. Having worked in a variety of roles within the travel industry since 2007, Maria joined the Selective Asia team as our Marketing Manager in 2016.
In her words
Following on from my childhood holidays, my travel adventures really began when, aged 16 and with little more than a suitcase in hand, I embarked upon a year in the US. This was swiftly followed by a move to attend university in the UK, then interrailing in Europe and time spent living in Austria and Belgium.
"I first experienced Asia when I travelled to Macau and Hong Kong with a friend. I remember the whole thing vividly - the humidity hitting us the second we left the aircraft, the enticing tastes and smells, and the burst of excitement at how unfamiliar everything was."
Japan has always been my dream destination (having learned Japanese at university) and when I took my 3-year-old son travelling around the world for just over a year, it was incredible to stay there for over a month. We went from neon-heavy Tokyo, where every sense was on overdrive, to the intense peace of walking the Nakasendo trail towards a foodie escape in Osaka - a month didn't feel like enough!
Since joining Selective Asia, I've taken trips to Laos and Sri Lanka, both of which were incredibly enriching. Without doubt, the highlights were experiencing the positivity of Mandalao's elephant conservation in Laos, including witnessing the elephants walking nearby (there was even a baby!), and visiting Gal Oya National Park in Sri Lanka, which was the most blissful nature experience I've ever had. It was a true digital detox in the middle of the most beautiful setting.
"Watching elephants swimming in Gal Oya Lake with the burning-red sunset in the background is something I'll never forget."

Countries visited in Asia
Thailand, India, Singapore, Sri Lanka, Malaysia, Vietnam
Q&A
Favourite Asia-related book?
Reading 'Seven Years in Tibet' in my teenage years really kick-started my life-long curiosity about all aspects of Asian culture.
Favourite Asia-related film?
I'm a very big Wong Kar-wai fan, especially 'In the Mood for Love'. The cinematography is heavy with emotion, evoking a kind of nostalgia for places you haven't even visited yet, and there's a beautiful score that really carries you along.
Favourite Asian food?
This is the toughest question! From a light sushi spread to a 'hug in a bowl' of ramen, Japanese food is never far from my mind. I do have proper cravings for a fragrant dish of pho pretty often too, though!